Experimental Animation at the Dawn of the Digital Age: British and American Short Films, 1967-75
Thursday, July 30, 2015 -

3:00pm

to

4:30pm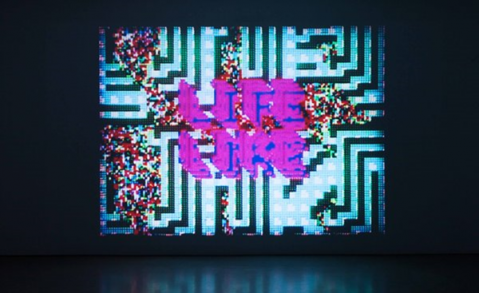 -- Introduced by Marshall N. Price, Nancy Hanks Curator of Modern and Contemporary Art
In conjunction with the exhibition Colour Correction: British and American Screenprints, 1967-75, the Nasher Museum presents an evening of British and American experimental animated short films from the late 1960s to mid-1970s. Created at the dawn of the digital age, these films reveal how some artists worked with new technologies and collaborated with scientists and computer programmers, while others employed analog techniques in digitally evocative ways. Their works illustrate not only a shared aesthetic with the screenprints in Colour Correction, but also a shared sense of experimentation with a relatively new technology. The program will feature 11 animated short films by seven artists.
Works to be screened:
British:
Malcolm Le Grice:
Threshold (1972, 13.5 min, UK, Sound, Color)
Threshold is based on a small number of component sequences. The film explores a range of film printing techniques using color filtering, mattes and multiple superimpositions.
Peter Donebauer:
Entering (1974, 7 min, UK, Sound, Color)
This piece is a live video-music collaboration of Peter Donebauer and composer Simon Desorgher that combines very light layering, erasure, and transformation of abstract imagery.
Peter Foldes
Hunger (1974, 11 min, Canada/UK, Sound, Color)
In this animated short, director Peter Foldes depicts one man's descent into greed and gluttony.
Alan Kitching
Finite Elements (1974, 12 min, Sound, UK, Color)
Pioneering 1974 Antics computer animation written and directed by Alan Kitching, explaining the mathematical principles of the Finite Elements computer stimulation technique.
American:
Charles Csuri:
Aging Process (1967, 30 sec, USA, Sound, Color)
This piece presents a computer-generated drawing of two images – one of a young girl and the other of an old woman.
Hummingbird (1968, 10 min, USA, Silent, B/W)
A computer animated film showing the line drawing of a hummingbird for which a sequence of movements appropriate to the bird were outlined.
Rotating Geometries (1971, 18 sec, USA, Sound, Color)
A computer-generated graphic display of rotating discs.
Realtime 2 (1972, 27 sec, USA, Sound, Color)
Stan VanDerBeek:
Poemfield No. 2 (1971, 6 min, USA,  Sound, Color)
One of the eight films in the computer animated art series, this piece explores variation of abstract geometric form and words.
John Whitney (American, b. Altadena, California 1917-1995)
Matrix I (1971, 6 min, USA, sound, color, 16mm film transferred to high-definition digital video)
A deep-zones dream collaboration between pioneers in electronic animation and classical minimalism.
Score Antonio Solar sonata arranged and performed on piano by Delores Stevens. Film: John Whitney © 1971. Film copyright renewal by Whitney Editions LLC © 2015 
 
Arabesque (1975, 7 min, USA, Sound, Color, 16mm film transferred to DVD)
An example of the artist perfecting his art. The whirling, exotic flow of the music is in perfect synthesis with the quasi-psychedelic blooming of colored forms.  
Original Score composed and performed by Manoocheher Sadeghi. John Whitney © 1975. Film copyright renewal by Whitney Editions LLC © 2015 
Cost: Free and open to the public
Sponsors: The Nasher Museum of Art and the Program in the Arts of the Moving Image (AMI)
Nasher Museum of Art Auditorium