Screen/Society--Muslim Cultures Film Series--"40 Square Meters of Germany"
Wednesday, September 29, 2010 -

4:00pm

to

5:30pm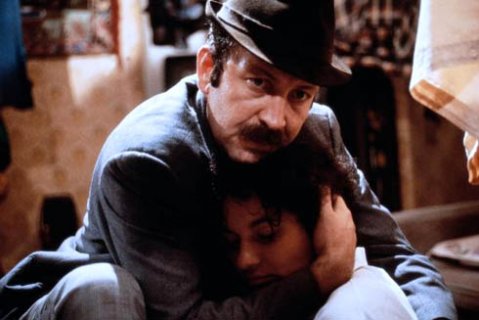 40 Square Meters of Germany
(Tevfik Baser, 1986, 80 min, Germany, in German & Turkish w/ subtitles, Color, 35mm)
Rare subtitled 35mm screening of a film that is not distributed in the U.S. and not available on video!
The title Forty Square Meters of Germany refers to the shabby apartment where 90% of the film takes place. Ozay Fecht stars as an impressionable Turkish girl named Turna, who is taken in by the tall tales spun by migrant worker Dursun (played by Yaman Okay), whom she marries and follows to Germany. In this emotionally-charged drama, the young bride's hopes for a better life in Germany are abruptly dashed. Dursun gets a job in a German factory and on his first working day after Turna moves in, he walks out of their apartment and locks the door behind him. The message is clear -- good brides do not leave the four walls. Turna spends her time scrubbing, washing clothes, doing dishes, cooking, cleaning, and sometimes staring out the window onto a small courtyard. The occasional smile of a neighbor child or the sounds of other people's lives are her only contact with Germany. But none of this prepares her for an unexpected jolt waiting just around the corner...
-- Part of the Muslim Cultures Film Series.
-- Nominated for the Film Award in Gold for Outstanding Feature Film at the 1987 German Film Awards!
Cost: Free and Open to the Public
Sponsors: Program in Arts of the Moving Image (AMI), Duke Islamic Studies Center and Women's Studies Program
Bryan Center Griffith Film Theater