Screen/Society--Reel Global Cities Film Series--"Ecumenopolis: City without Limits"
Monday, November 17, 2014 -

2:00pm

to

3:30pm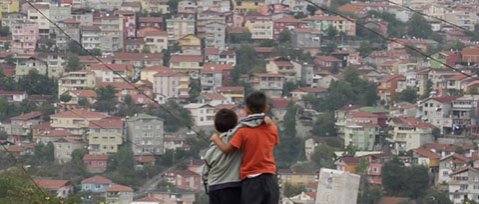 FILM SCREENING:
Ecumenopolis: City without Limits
(Imre Azem, 2011, 88 min, Turkey, in Turkish w/ English subtitles, Blu-Ray)
 
-- Introduced by Prof. Erdağ Göknar, Turkish & Middle East Studies!
Ecumenopolis offers a chilling vision of a city that has exhausted its natural, physical and spatial resources, that nonetheless keeps on growing, apparently, without limits. It follows the story of a migrant family from the demolition of their neighborhood to their ongoing struggle for housing rights. We see the city at the macro level, through the eyes of experts, going from the tops of growing skyscrapers to the depths of the railway tunnel under the Bosphorous strait; from the historic neighborhoods in the south to the forests in the north; from isolated islands of poverty to the villas of the rich. It's an Istanbul going from 15 million to 30 million, and from 2 million cars to 8 million. It's the Istanbul of the future that will soon engulf the entire region, an Istanbul nobody has ever seen before.
    [ click here to visit the Rethinking Global Cities website ]
Cost: Free and Open to the Public
Sponsors: The Program in the Arts of the Moving Image (AMI), the Asian/Pacific Studies Institute (APSI), the Council for European Studies (CES), the Center for Latin American and Caribbean Studies (CLACS), the Duke University Center for International Studies (DUCIS), the Duke Islamic Studies Center (DISC), the Duke University Middle East Studies Center (DUMESC), and the Andrew W. Mellon Foundation "Partnership in a Global Age".
Bryan Center Griffith Film Theater