September 24-November 29, 2018
Richard White Lecture Hall (unless otherwise noted)
Four contemporary films explore a range of approaches and stories, including teenage detention centers in Tehran, Syrian construction workers in Lebanon, female-led uprisings in Palestine, and unemployed youth in Turkey.
[ Download PDF Series Poster ]
Sponsored by the Duke University Middle Eastern Studies Center (DUMESC), the Department of Asian and Middle Eastern Studies (AMES), and the Program in the Arts of the Moving Image (AMI).
Monday, Sep 24 @ 7pm
Starless Dreams
(Mehrdad Oskouei, 2016, 76 min, Iran, in Persian w/ subtitles)
Starless Dreams plunges us into the lives of young teenage girls sharing temporary quarters at a juvenile detention center on the outskirts of Tehran. Director Mehrdad Oskouei, one of Iran's most prominent filmmakers, spent seven years securing access to this all-female facility.
Monday, Oct 15 @ 7pm
Taste of Cement
(Ziad Kalthoum, 2017, 85 min, Germany, in Arabic w/ subtitles)
A portrait of workers in exile, Taste of Cement is an empathetic encounter with the Syrian construction workers who sleep beneath the skyscrapers they're raising.
 

Monday, Nov 5 @ 7pm
Naila and the Uprising
(Julia Bacha, 2017, 76 min, USA, in Arabic, Hebrew, and English)
A personal portrait of the Palestinian resistance leader Naila Ayesh, who joins an underground women's network that led a civil resistance movement during the First Intifada in 1987.
-- Q&A to follow with producer Emma Alpert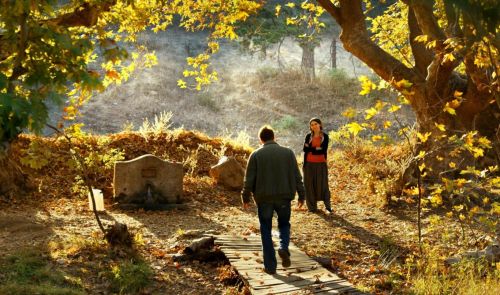 Thursday, Nov 29 @ 7pm (Rubenstein Arts Center)
Special Presentation: The Wild Pear Tree
(Nuri Bilge Ceylan, 2018, 188 min, Turkey, in Turkish w/ subtitles, DCP)
Sinan is a Turkish boy from the provinces who has just graduated from college and is trying to get his first novel published. Brash and provocative to the point of insolence, he is also one of cinema's best-drawn embodiments of the European economic crisis that keeps youth unemployed and their future an out-of-focus question mark.
 [ Back to Screen/Society Series Page ]
---
Screen/Society screenings are free and open to the public.