September 4-October 2, 2018
Rubenstein Arts Center, Duke University
Curated by Chi-hui Yang and Jon Goff
  [Download PDF Press Kit]
The Visible Spectrum explores the ways that artists have radically experimented with documentary form to articulate the fullness of history and lived experience. By carefully building the shapes of ideas, these 18 artists offer exploded and wholly singular ways of seeing, and deep reimaginings of race, the state, the body and History itself. An intergenerational conversation between filmmakers from across geographies, traditions and communities, the series asks us to consider how meaning is made, and how we construct history in our daily lives. From what deep diasporic time looks like, to how artistic lineages move across generations, to what an indigenous aesthetics is today, these works interrogate the power, limits and possibilities of images themselves and propose an accountability and ethics of working with the documentary form.  Including essay films, home movies, performance videos, unclassifiable hybrids, improvised poetics, archival interventions, landscape portraits and more from: Ayo Akingbade, Madeline Anderson, Korakrit Arunanondchai, Ephraim Asili, Cab Calloway, Nazli Dincel, Kevin Jerome Everson, Ja'tovia Gary, John Gianvito, Sky Hopinka, Adam Khalil, Zack Khalil, Lemohang Jeremiah Mosese, Howardena Pindell, belit sag, Monica Saviron, Cauleen Smith, Maryam Tafakory.
Sponsored by the Office of the Vice Provost for the Arts, the Department of Art, Art History, and Visual Studies, the Program in the Arts of the Moving Image (AMI), the Master of Fine Arts in Experimental and Documentary Arts, the Center for Documentary Studies, and the John Hope Franklin Humanities Institute.
 
Tuesday, Sep 4 @ 7pm
"Madeline Anderson: I Am Somebody"
Grounded in the trailblazing works of Madeline Anderson, this program spans over a half-century of cultural production by black women.
-- Q&A w/ curators Chi-hui Yang and Jon-Sesrie Goff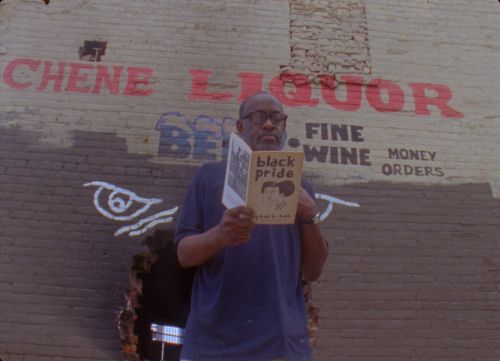 Tuesday, Sep 11 @ 7pm
"Ephraim Asili: Diaspora Suite"
In 2011, New York-based filmmaker, DJ, and traveler Ephraim Asili began an extraordinary series of films on the African diaspora. These films bring together archival research and Asili's travels through Brazil, Canada, Ethiopia, Ghana, Jamaica, and the United States to chart cultural connections across time and space.
-- Q&A w/ Ephraim Asili
Tuesday, Sep 18 @ 7pm
"Monuments for the Future" 
John Gianvito's monumental 2007 film Profit Motive and the Whispering Wind anchors this program of films which propose a radical reimagining of time, place, and the voices we put at the center of History.
Tuesday, Sep 25 @ 7pm
"Image Control" 
In this collection of works that address politics, social movements and personal histories, the image - photographs, symbols, archival materials, propaganda videos – is deconstructed and examined to understand its limits, controlling influences and symbolic power.
Tuesday, Oct 2 @ 7pm
"Adam and Zack Khalil - Indigenous Futures" 
A kaleidoscopic film experience blending documentary, narrative, and experimental forms, INAATE/SE/ transcends linear colonized history to explore how an ancient Ojibway prophecy resonates through the generations in the Khalils' indigenous community within Michigan's Upper Peninsula. Screening with their short film, The Violence of a Civilization without Secrets (2017).
–Q&A w/ filmmakers Adam and Zack Khalil
                      [ Back to Screen/Society Series Page ]
---
Screen/Society screenings are free and open to the public.
Parking Info:  https://artscenter.duke.edu/parking/