Screen/Society--The Visible Spectrum--Program 3: Monuments for the Future
Tuesday, September 18, 2018 -

7:00pm

to

8:30pm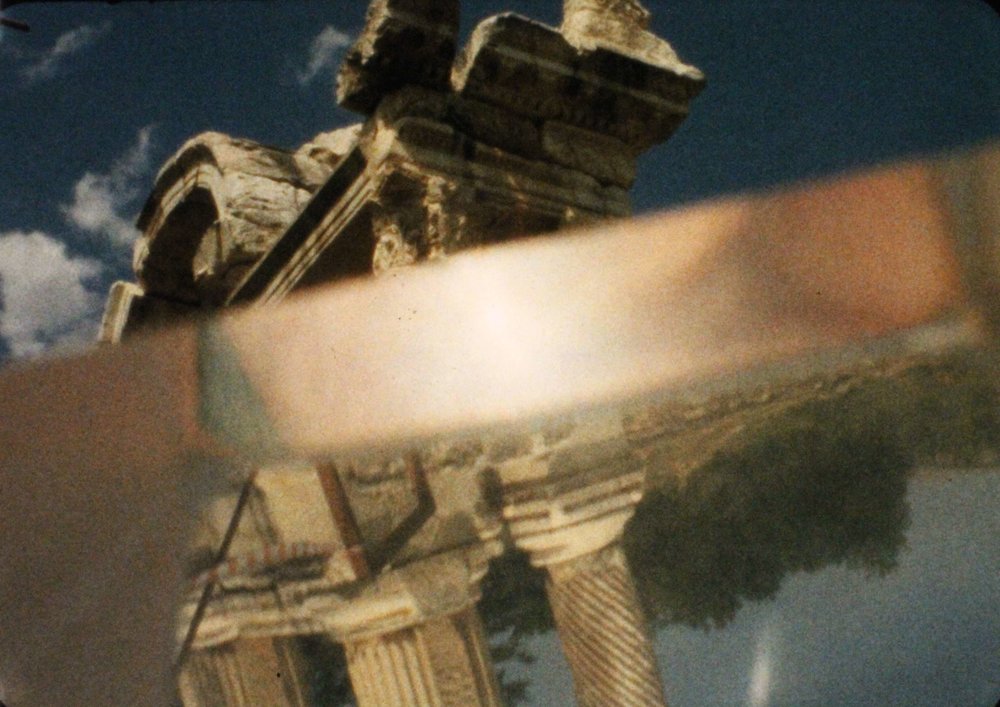 Monuments for the Future
Experimental and Documentary Cinema: The Visible Spectrum
What are the necessary monuments for our collective future; ones that unfurl and welcome, that push national narratives to hold more and ask us to rethink where we look for history and how we see it? This collection of films proposes a radical reimagining of time and place and what voices we put at the center of History.
John Gianvito's monumental 2007 film Profit Motive and the Whispering Wind provides the center for this program. Loosely inspired by Howard Zinn's A People's History of the United States, it is an epic, visual meditation on the progressive history of the United States, from colonial times to the present, as seen through its cemeteries, historical plaques and markers. Making its way through 400 years of American history, it visits the resting places of such figures as Malcolm X, Mother Jones, Frederick Douglass, Cesar Chavez, Susan B. Anthony and Crazy Horse, alongside lesser known but equally important heroes and radicals, including Frank Little, Uriah Smith Stephens and Elizabeth Cady Stanton. Parallels of diaspora and the legacy of revolution are evoked in Cab Calloway Visits Haiti - excerpts from home movies the musician shot while on tour in the Caribbean, including a visit to a statute of Toussaint Louverture. Mining the archive, Monica Saviron's Broken Tongue is an ode to the freedom of movement, association, and expression and challenges the way narratives are constructed.  Made primarily with images from the January 1st issues of The New York Times from 1851 to 2013, it animates sound performer Tracie Morris' poem "Afrika."  In Pilgrim Cauleen Smith constructs a meditation on place and creative and spiritual inspiration through spaces of generosity: Alice Coltrane's Sai Anantam Ashram in Agoura, California, the Watts Towers in Los Angeles, and the Watervliet Shaker Community, in Troy, NY. In Shape of a Surface, Nazli Dincel explores the ruins of a city once built for Aphrodite and its Pagan, Christian and Muslim pasts, through the surfaces and mirror reflections of present day bodies and perspectives.
---
Full Program:
 • Cab Calloway Visits Haiti  (Cab Calloway, 1951, 7 min, US)
• Profit Motive and the Whispering Wind  (John Gianvito, 2007, 58 min, US)
• Broken Tongue  (Monica Saviron, 2017, 3 min, US)
• Pilgrim  (Cauleen Smith, 2017, 8 min, US)
• Shape of a Surface  (Nazli Dincel, 2017, 9 min, US)
TRT: 85 min
---
Sponsored by the Office of the Vice Provost for the Arts, the Department of Art, Art History, and Visual Studies, the Program in the Arts of the Moving Image (AMI), the Master of Fine Arts in Experimental and Documentary Arts, the Center for Documentary Studies, and the Franklin Humanities Institute.
[ Share on Facebook ] [ + Add to Google Calendar ] [ + Export to Calendar (Outlook) ]
Screen/Society screenings are free and open to the public.
Parking Info:  https://artscenter.duke.edu/parking/
Rubenstein Arts Center, Film Theater