Screen/Society--The Visible Spectrum--Program 5: Adam and Zack Khalil - "Indigenous Futures" -- w/ Adam & Zack Khalil in attendance
Tuesday, October 2, 2018 -

7:00pm

to

9:00pm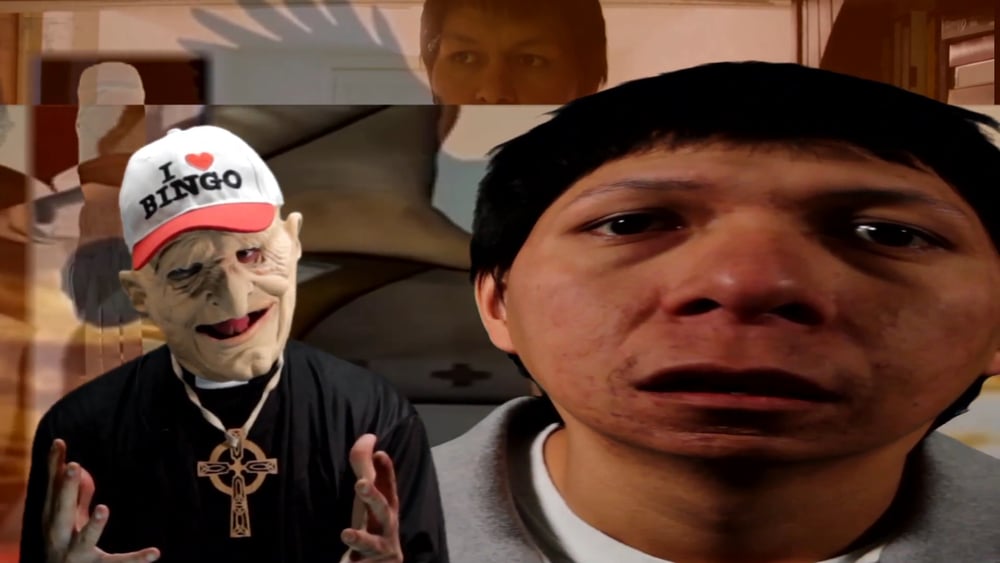 Adam and Zack Khalil - Indigenous Futures
Experimental and Documentary Cinema: The Visible Spectrum
--Q&A w/ filmmakers Adam and Zack Khalil 
With a practice that includes experimental filmmaking, documentary, performance and curation, Adam and Zack Khalil have charted out a critical and unconventional space for situating and interrogating ideas of indigeneity today. In their first feature documentary, INAATE/SE/, the Khalils re-imagine an ancient Ojibway story, the Seven Fires Prophecy, which both predates and predicts first contact with Europeans. A kaleidoscopic experience blending documentary, narrative, and experimental forms, INAATE/SE/ transcends linear colonized history to explore how the prophecy resonates through the generations in their indigenous community within Michigan's Upper Peninsula. With acute geographic specificity, and grand historical scope, the film fixes its lens between the sacred and the profane to pry open the construction of contemporary indigenous identity. In their recent short film, The Violence of a Civilization without Secrets, the Khalils collaborate with artist Jackson Polys to reflect on indigenous sovereignty, the undead violence of museum archives and post-mortem justice through a court case that decided the fate of the remains of a prehistoric Paleoamerican man found in Kennewick, Washington in 1996.
---
Full Program:
• INAATE/SE/ [it shines
 a certain way. to a certain place./it flies. falls./]  (Adam and Zack Khalil, 2016, 68 min, US)
• The Violence of a Civilization without Secrets  (Adam and Zack Khalil, 2017, 10 min, US)
TRT: 78 min
---
Sponsored by the Office of the Vice Provost for the Arts, the Department of Art, Art History, and Visual Studies, the Program in the Arts of the Moving Image (AMI), the Master of Fine Arts in Experimental and Documentary Arts, the Center for Documentary Studies, and the Franklin Humanities Institute.
[ Download PDF Flyer ] [ Share on Facebook ] [ + Add to Google Calendar ] [ + Export to Calendar (Outlook) ]
Screen/Society screenings are free and open to the public.
Parking Info:  https://artscenter.duke.edu/parking/
Rubenstein Arts Center, Film Theater